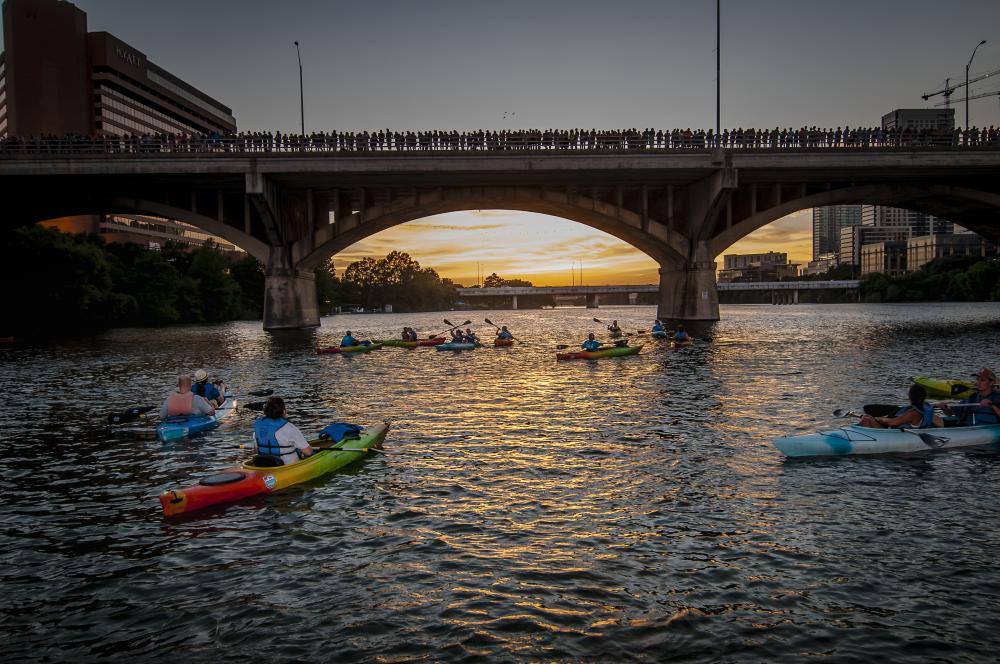 The 5 Best Summer Activities in Austin
Austin is a great place to visit any time of the year, but especially in the summer. The capital of Texas is known for its live music, food trucks, outdoor adventures, and cultural diversity. Whether you are looking for a family-friendly outing, a romantic date night, or a solo adventure, you will find something to suit your taste and budget in Austin. Here are some of the best summer activities in Austin that you don't want to miss.
Kayak on Lady Bird Lake
One of the most popular and scenic ways to enjoy the summer in Austin is to kayak on Lady Bird Lake, which flows through the heart of the city. You can rent kayaks, stand-up paddleboards, or canoes from various vendors along the lake, such as Rowing Dock, Greenbelt Outdoors, or Austin City Kayak Tours. You can paddle along the shoreline and admire the views of downtown Austin, or venture further out and explore the quieter parts of the lake. You might even spot some wildlife, such as turtles, herons, or ducks.
Watch the Bats at Congress Avenue Bridge
Another unique and unforgettable experience in Austin is to watch the bats emerge from under the at sunset. The bridge is home to more than one million Mexican free-tailed bats, which are the largest urban bat colony in North America. Every night from March to October, the bats fly out of the bridge in a spectacular display that attracts thousands of spectators. You can watch from the bridge itself, or from a nearby park or boat. You can also learn more about the bats and their importance to the ecosystem at the Statesman Bat Observation Center.
Hike and Swim at Barton Creek Greenbelt
If you are looking for some outdoor adventure and natural beauty, head to Barton Creek Greenbelt, a 12-mile trail that follows Barton Creek through lush forests and rocky cliffs. The greenbelt offers plenty of hiking, biking, climbing, and swimming opportunities for all levels of fitness and skill. You can access the trail from various points along the creek, but some of the most popular spots are Gus Fruh, Twin Falls, and Sculpture Falls. These are natural swimming holes where you can cool off in the clear water and relax on the rocks.
Listen to Live Music at Blues on the Green
Austin is known as the Live Music Capital of the World, and there is no better way to experience it than at Blues on the Green, a free outdoor concert series that takes place every summer at Zilker Park. Blues on the Green features local and national artists performing various genres of music, from blues and rock to country and folk. You can bring your own blanket, chairs, food, and drinks, or buy them from vendors on site. You can also enjoy other activities like games, giveaways, and photo booths.
Explore the Museums and Art Galleries
If you want to escape the heat and learn something new, check out some of the museums and art galleries in Austin. There is something for everyone, whether you are interested in history, science, art, or culture. Some of the most popular museums are The Bullock Texas State History Museum , which tells the story of Texas through exhibits and films; The Thinkery , which is a hands-on science and technology museum for kids; The Contemporary Austin , which showcases modern and contemporary art from local and international artists; and The LBJ Presidential Library , which honors the life and legacy of President Lyndon B. Johnson.
These are just some of the best summer activities in Austin that you can enjoy this year. Whether you are a local or a visitor, you will find plenty of fun and exciting things to do in this vibrant and diverse city.